Cork & Fork
Book a Table
Now Reserving Indoor Seating Only
A Very Unique Dining Experience
Come taste the perfect marriage of delicious small plates and an outstanding array of wines for every palate. We have created what we think is the most unique and exciting dining experience in the Coachella Valley!

Cork & Fork was born out of our Cooking School, Cooking with Class. What started as a weekly get together on Wednesday evenings inside our cooking school featured small plates and wines by the glass. Each week the list of attendees grew and grew until Chef Andie was turning away more people than she could seat. The empty space next door suddenly became very appealing! The rest as they say, is history!

This is casual fine dining at its best. Our menu features creative small plates ranging from classic comfort to exotic fusion. Our chef uses the highest quality ingredients and shops locally, organically and sustainable whenever possible. Our Mix, Match, Share & Enjoy philosophy allows you to choose your own adventure and order many small plates to share, or let our chef choose for you if you'd like.

We offer an eclectic list of affordable wines by the glass and bottles to share, with perfect pairing advice for each of our tasty dishes. Our wine list features important varietals and award winning winemakers from around the world, with an emphasis on food friendly wines. We want you to experiment while you are here, so be sure to check out our tasting pours of many incredible wines you might not have had. Try a new wine, our fabulous craft beers on draft, or one of our homemade cocktail infusions for an incredible accompaniment to your meal.

Come taste the perfect marriage of great food and exciting wines with us! We are excited to share them with you.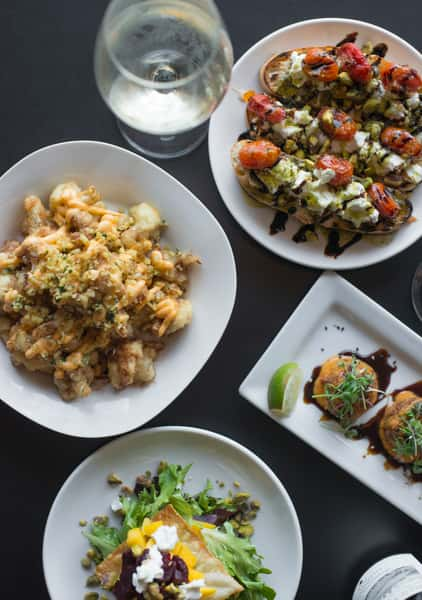 Chef Philosophy
Our concept stems from the fact that we really don't think it's any fun to have 25 bites of the same thing. We would rather try lots of different things, which is why we created a menu where the portions are on the smaller side, so you can have fun with ordering a bunch of different items. Our food lends itself to sharing, so please, make sure you like the people you are here with. People sometimes refer to our style of food as "tapas", but we have a lot of medium and large-ish plates on our menu too, and tapas kind of refers to Spanish foods, which is only one of the many cuisines we sprinkle into our eclectic menu. We don't really have a style of food – we just work hard to have a variety of dishes and we make sure they are all super delicious and of the very highest quality. For those of you with dietary restrictions, we are happy to make substitutions and are sensitive to our friends with Gluten intolerance – with 60% of our menu being gluten free. We also have the vegetarians covered, so don't worry. Also, we're just gonna come out and let you know up front that our menu changes every couple of months so you might not want to get too attached to anything. Except of course the things that we know our customers would basically riot over if we removed them from the menu – your server will point those out to you, we promise. Lastly, our restaurant is designed with an open kitchen so that you can feel free to come say hey to our chefs anytime you please, they love the attention and they love great feedback.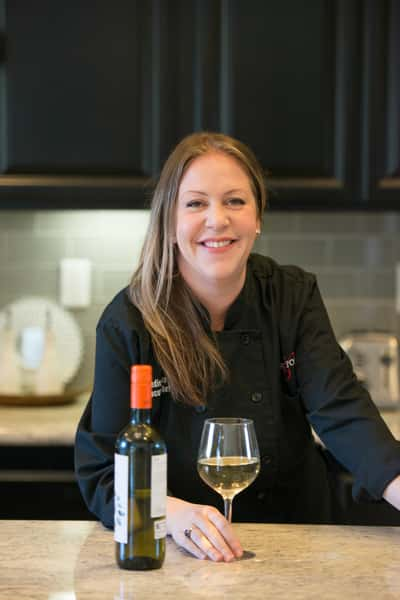 Meet Our Chef
Andie Hubka is the award winning Executive Chef and Owner of three acclaimed restaurants – La Quinta's Cork & Fork , Heirloom Craft Kitchen in Indio and the recently opened Tu Madres Cantina & Grill ( located next door to Hierloom). She also serves as Executive Chef and owner of Cooking with Class Cooking School – the Desert's first and only recreational gourmet culinary school. Andie was named "Chef of the Year" by Palm Springs Life Magazine for her work at Cooking with Class, and has since gone on to open her exceptional restaurant Cork & Fork, which has earned top honors including Best New Restaurant in 2013 in the prestigious 'My Desert' poll , a Wine Spectator Award of Excellence every year since opening, and the distinction of being consistently named among the top restaurants in the Coachella Valley. Andie has a true passion for food and wine – her specialty is creating unique, spectacular wine and food pairings and multi course wine dinners. Most recently she had the honor of representing the Coachella Valley Culinary Arts cooking at the prestigious James Beard House in new York City. Born and raised in Los Angeles but a desert resident since 2002, Andie is a classically trained Chef, cookbook author, wife and mother of two young girls. A teacher at heart, Andie staffs her kitchens with students from the La Quinta High School Culinary Program, in partnership with the school, creating the Desert's first paid culinary internship program that has successfully graduated 6 years of students in to the local culinary workforce and beyond. Her true passion is wine, food and travel and she frequently leads group on trips throughout the world to explore and discoverer their next favorite food & wine destination.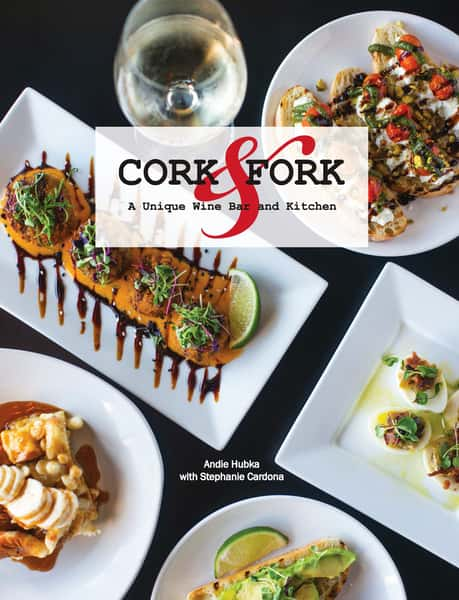 The Cork & Fork Cookbook
The long awaited and highly anticipated Cork & Fork Cookbook is here!!!
Order your copy today!
Regular price $32.63 includes tax
Cookbook plus shipping $37.63 includes tax
Books may be shipped for an additional shipping & handling fee of $5, (call for expedited shipping options) or you can pick up your copy at Cork & Fork or Cooking with Class
Find Us
La Quinta
47875 Caleo Bay Drive # A106
La Quinta, CA 92253

Hours
Monday - Sunday:
4:00 pm - 8:30 pm
Please note our Special Holiday Hours this week: We will be closed Thursday and Friday for Thanksgiving
Leave a Review
"Hard to choose a fave---usually go with 4 friends so we can taste more dishes among us---but if I had to pick I'd say it was the crispy cauliflower. Melt-in-your-mouth caramelized sweetness, a nice crunch, zippy sauce, what a great combination!"
"The Butternut Squash Ravioli was sublime - rich, creamy sauce with a touch of sage; and the Goat Cheese Bruschetta never disappoints!"
"Cork and Fork is the best! The wine list is one of the best in the area. My favorite was the crispy Brussels Sprouts, the bacon is amazing! Can't wait to go back!"
"BEST 'Nachos' I have ever had! Hard to describe how tasty and delicious they are. Everything I have ever tried here has been very good; these are just the cherry on top! Great atmosphere and customer service. Highly recommend."
"These scallops were to die for. They were perfectly prepared and the server was amazing"
"Hard to choose a fave---usually go with 4 friends so we can taste more dishes among us---but if I had to pick I'd say it was the crispy cauliflower. Melt-in-your-mouth caramelized sweetness, a nice crunch, zippy sauce, what a great combination!"
"The Butternut Squash Ravioli was sublime - rich, creamy sauce with a touch of sage; and the Goat Cheese Bruschetta never disappoints!"
"Cork and Fork is the best! The wine list is one of the best in the area. My favorite was the crispy Brussels Sprouts, the bacon is amazing! Can't wait to go back!"
"BEST 'Nachos' I have ever had! Hard to describe how tasty and delicious they are. Everything I have ever tried here has been very good; these are just the cherry on top! Great atmosphere and customer service. Highly recommend."
"These scallops were to die for. They were perfectly prepared and the server was amazing"